We often design little comfort spots that let a part of our mind sit there while things get tough. This watercolor work was the last I did this summer, and it has a lot of things cosy and peaceful: fireplaces, trees, cats, sunsets and tree houses 🌱A little safe spot to rest one's mind and soul, even if it's just for a bit.
A child of this year's spring:
One of my favourite blooms is that of Magnolia tree - its flowers are elegant and graceful with that creamy pink petal colour, every time I see it I think of ice cream 🍨
It was asking to be turned into a watercolor painting.

A mysterious red-ribboned lady that was vaguely inspired by "Fingersmith" - a Sarah Water's novel I read earlier this year.
A classic garden-themed scene in a vintage postcard style featuring some head halves and unidentified characters standing around holding stuff.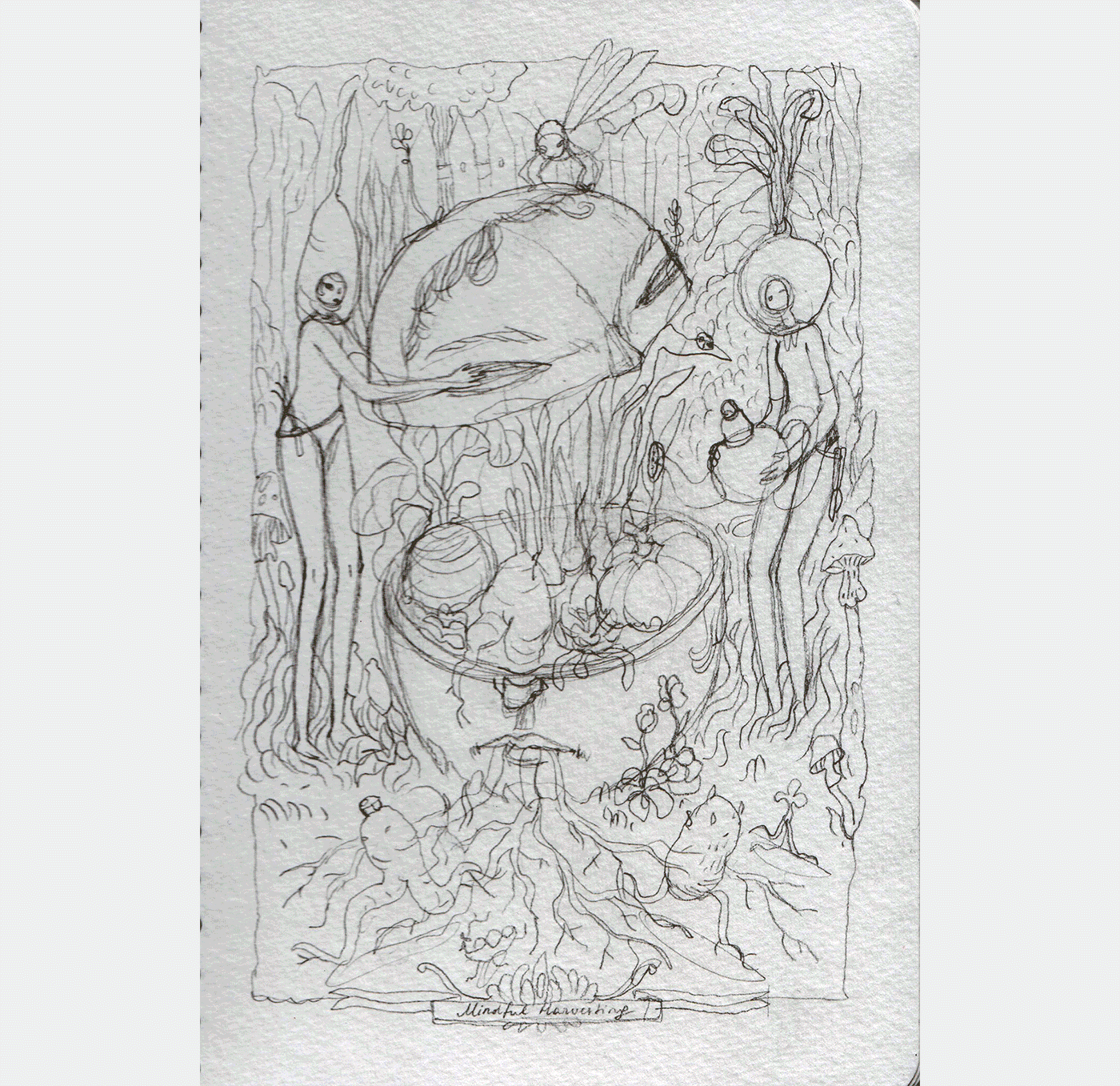 I started this large halloween-themed watercolor a couple years ago, and never finished. I struggled with handling dark paints and it wasn't coming out the way I wanted it to, so I did something I rarely do - abandoned it!
But then this year I thought I'd dust it off and see what's what, and after giving it a little makeover I decided that it's got some charm after all! And at the very least is worth sharing with the world.


A witch and a vampire are housemates that have decided to spend the last night of October in (Hallow-In!) so they're chillin' and cooking some stuff and maybe watching some Netflix. When I started this painting two years ago I had no idea how relevant it will be two years in the future 😅 *lockdownemoji*
I come from a little town with its pine trees and lakes, its soviet flat blocks and a nuclear power plant - all an artist could wish for to get a lifetime inspiration 🌲But I gotta tell you, there's a certain charm to all of that USSR architecture wrapped up in ancient baltic forests and echoes of the 90's.
Welcome to Visaginas, Lithuania.
(oh, and also HBO's Chernobyl was partially filmed in my hometown -
pretty cool however I haven't seen the series myself).

An older work of mine that I came across in Autumn and gave it a little makeover - I have only just realised how strong its lockdown vibes are :)
There I go - paying tribute to quarantine (3 years) before it was cool!

This work is a large one, approx A2 watercolor and bit of white posca pen on paper.
Welcome to the house of fun!
And, finally, the last painting of this year.

We all have spent most of 2020 indoors and learned to transform familiar corners into all kinds of spaces: fridges became restaurants, bathrooms turned into home spas, devices connected us with our loved ones and sofas became cosy reading spots or indoor cinemas. Home was a space to be together and alone, to shop and receive mail, to work and go out, to laugh and cry and hide from the world while continuing to dream about being back in that very world.
Here's to a home - the four walls that were our world this year 🏡🛋️🛌