Hey everyone! It has already become a bit of a New Year's tradition of mine
to put together a post with all the smaller works created earlier that year.
So here's a bunch of little(ish) paintings and drawings I made in 2019 -
it's been a busy year and I've learned a lot. Hope you feel the same way! 
Enjoy and spread the word 🎄
My watercolor polyptych - a work made up from several panels. 
A couple of painted characters that were cut out and hidden in the snow to create that peeking impression.
I bought a locket picture frame and created a bespoke watercolor design to match the space. 
Someone (well, me) riding a pigeon. A classic. 
"The Beet Doctor" - one of my favourites from this year.
This painting was inspired by my mother's tomato garden with all kinds of characterful specimen.
And a few works influenced by Lithuanian nature full of pine forests, wild mushrooms and hidden forest lakes.
This plant-headed illustration was initially designed to live as a mural but ended up turning into
a slightly fairy-tailey watercolor illustration. 
I did a lot of collabs and interactions with my Instagram followers this year, like this bunch of submissions of 'weird things' that people sent to me and I turned into small watercolor and ink drawings.
What a fine selection of strangeness.
Another little watercolor work entitled "Self-care".
And two square paintings about relationships. 
I also got quite into designing and illustrating card-like pieces, like these several works that seem to belong to a non-existent bizarre board game.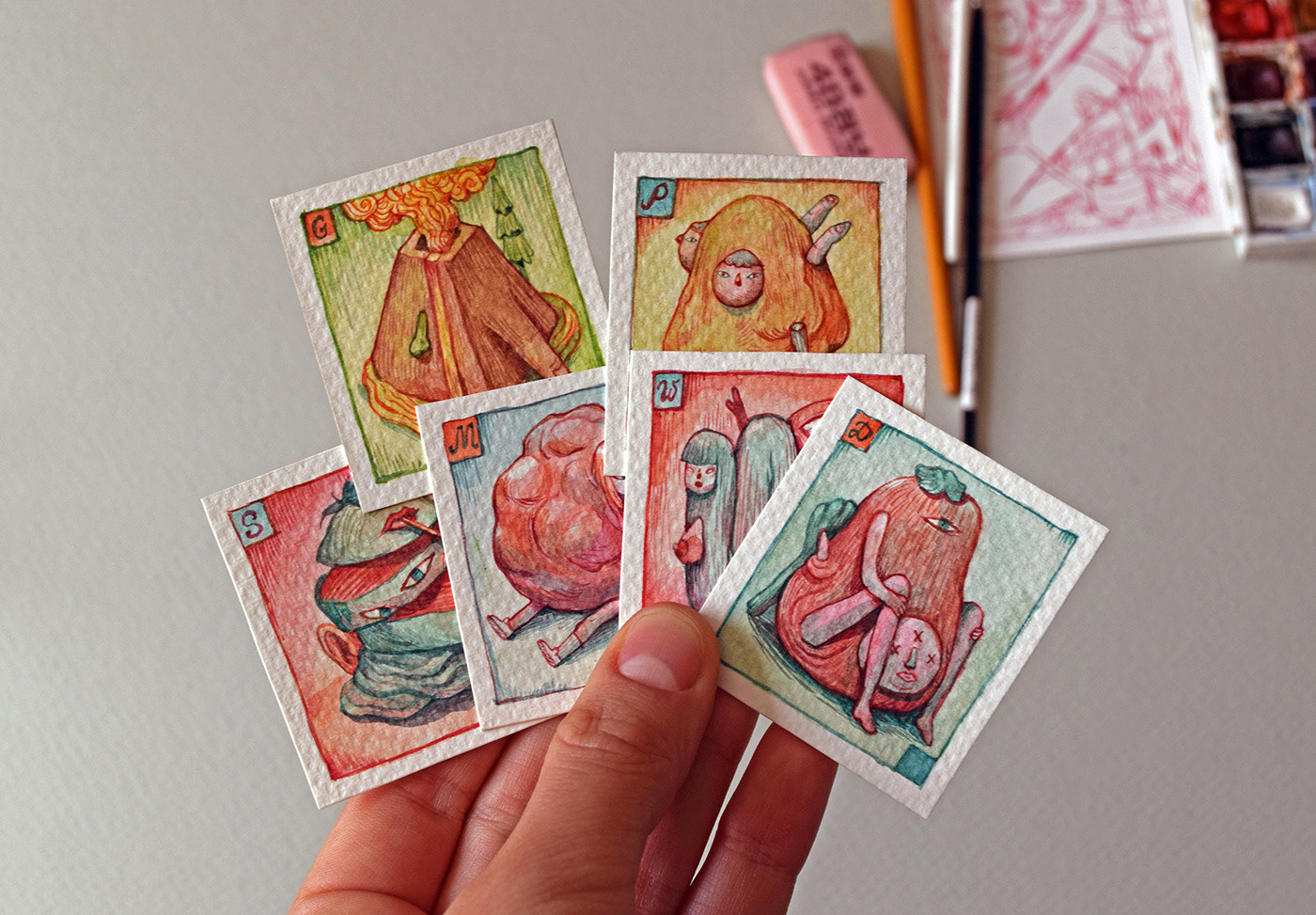 then I remembered I used to be a lot into colour pencils so "Pet Goldfish" had to be born.
"Carrot Love Child" ink and watercolor on aquarelle paper.
If you try very hard you can see that this illustration has the word "Normality" embedded into its design. Because nothing says normality like a bunch of interlaced flesh. 
I also visited Montreal and enjoyed its bagel scene
(in addition to all other amazing things that Montreal has to offer). 
A common exercise of character development, in an old-fashioned way.
You gotta break an egg to make an omelette. 
Another one from my watercolor sketchbook called "Perception". 
We see what we want to see.
"The Safe Space". We all have one.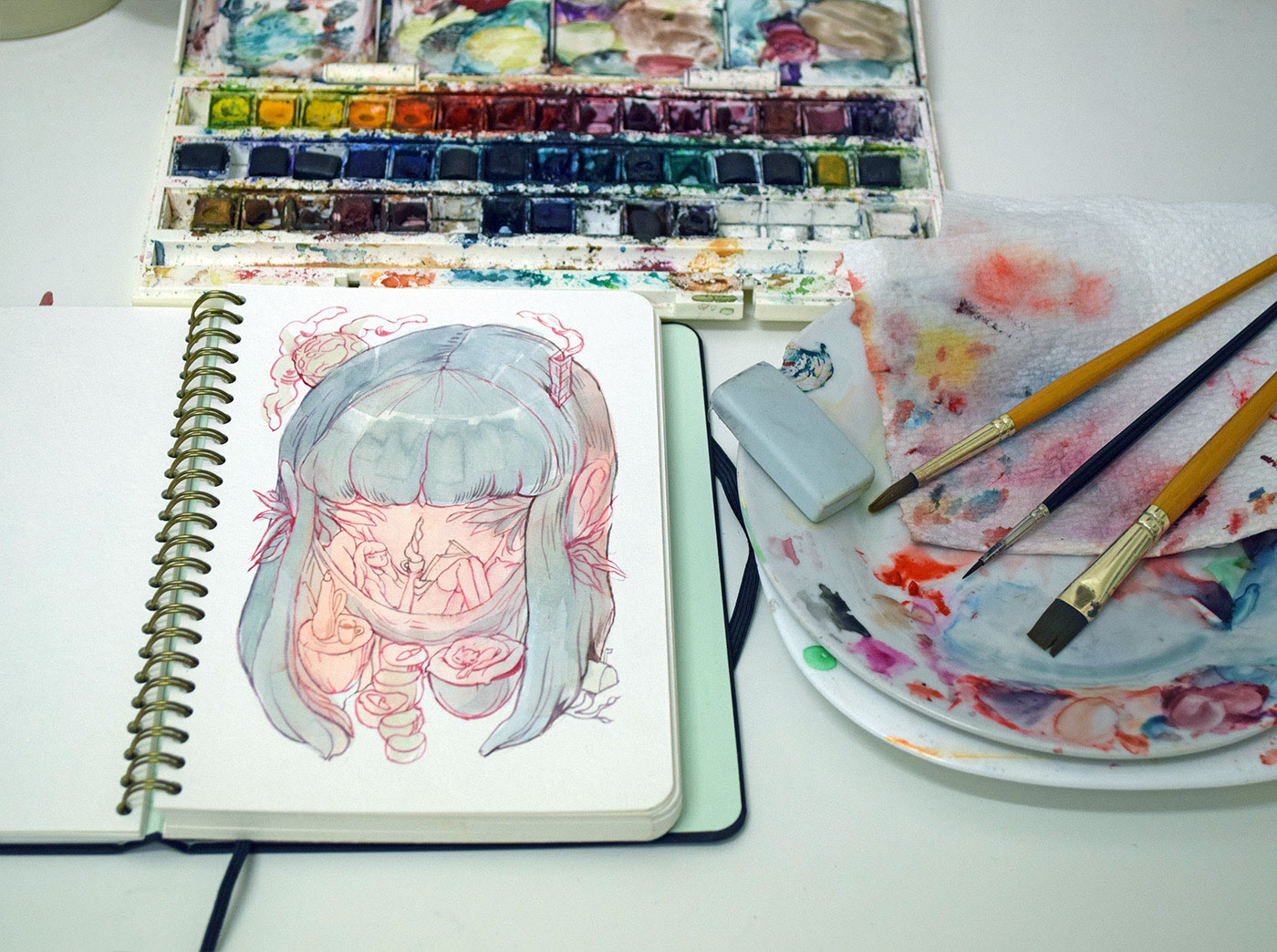 The tea party that features some sort of mother of sugar cubes and sacrifice made
to the lord of afternoon tea time. 
More detailed pieces of random formats, dominant pink palette. 
One of these is a lush bookmark.
Then I carried away and added some glitter to this watercolor once the painting stage was complete.
It ended up in a bin but at least I've scanned the process! 
My three-week journey to Japan is worth a separate post that will probably come to Behance in 2020, until then here's one of the paintings inspired by the trip. In this case it's about a salted Japanese plum called Umeboshi and a girl that steals them from the jar. 
I started feeling festive in December and this series had to be born! 
"Make Winter Weird Again" was my way of protesting against all the too familiar xmas visuals we see all over the place every winter, always the same rosey-cheeked santas and bouncing snowmen.
I wanted to create something al little bit more unusual. 
Each card was designed digitally and hand-painted on watercolor paper using regular pains and
some glittery shiny coating I brought from Japan. 
Not a painting of course, but decided to share there to continue my festive theme:
four unusual-looking Xmas tree decorations. Each one is its own character.