I have always been fascinated by old and dark fairy tales, that get even darker if you dig deeper into the roots of the story.
For example, in the original medieval version of the little red riding hood a wolf kills her granny, makes a nice dinner out of her body and feeds it to a little girl, after that makes her take off her clothes and lay in bed next to him, which then leads to consumption of the child. How f*cked up is that? Not even close to a happy ending. Fascinating.

I illustrated the concept of the girl and an angry wolf (different from the medieval version) acting more like a team. The girl is the badass one in this scenario. You can see that she also carries an axe in one of the sketches, which makes me think of a tarantino-style remake of the fairy tale, where the girl goes off to the woods and kicks everyone's ass. 

I live the rest of the story up to you guys!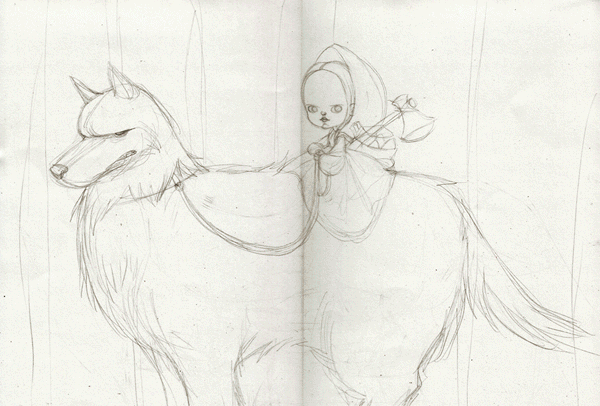 1697 is the year when Charles Perrault published his version of the fairy tale (without caniballism or sexual references). He also gave the girl a red cape.